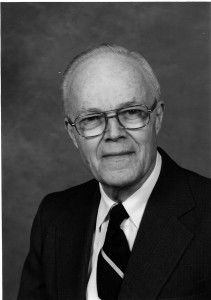 From1938 until his death in 2008, Garman O. Kimmell (my grandfather) created a unique photo Christmas card each year. When he started there was no one else doing anything like it. Each year he came up with a design concept and a verse or saying. He then shot the various components of the card design using his 4×5 negative viewfinder camera and then "assembled" the card using multiple exposures and masks in the darkroom. Many of the effects he created were fantastic considering the process he was using.
The cards often gave the receiver some insight into the changes that were occurring in the Kimmell family. Starting with a "Wedding Announcement" style card in 1938, Garman chronicled the births and early years of his three girls through the 40's, 50's and 60's. The 70's were almost entirely of my Aunt Martha.
The 1978 card was a "equation" showing how each daughter had left (a -K) and married (+) until the equation was 2K + 4M + 5H + 2G which was Vera & Garman Kimmell, Barbara & Dusty Miller and their 2 children, Kay & Tom Hill and their 3 children (including me), and Martha & Fred Greene.)
Garman only appeared on the card in 1938, 1951 and 1976 as part of "family" pictures. In 1978 my grandmother passed away. The 1979 card was a picture of Garman alone in his shop. That card let the world know he was alone now.
The 80's were all objects and verses. Most were things Garman made.
1994 saw the first great-grandchildren on a card. 1998 was the first year I helped him with the card by taking his photos and digitally editing them into a single negative that he then printed in the darkroom. Then in 2001 he let me convince him to move to color. We made several cards together and it was always fun to work on the creative ideas with him.
Garman passed away in November of 2008. My father and I came up with a final card – Garman's shop with his chair empty.
I have archived here low-res versions of all the cards. Enjoy!