I love

. I said that.

 /ˈlɑːmɪ/ is a producer of writing instruments in Europe. The company is German-owned and its presence is particularly strong there. Josef Lamy, who was a sales representative for The Parker Pen Company in Germany, founded the business in 1930 by purchasing the Orthos pen manufacturer. He struggled through World War II (producing munitions and pens in the same factory), later to relaunch the company as C. Josef Lamy GmbH in 1948. Lamy was a pioneer in the use of moulded synthetic plastics to make their product. Lamy was run by Josef Lamy's son, Manfred Lamy, until his retirement in 2006. He was succeeded by Bernhard M. Rösner.
Specifically, I love the 

 Safari, Al Star and Vista Fountain Pens.
[L to R]: Safari in Gloss Orange 2009 Special Edition, Safari in Gloss Black (previously SE), Safari in Textured Umbra, Safari in Gray w/ Black Clip, Safari in White w/ Black Clip (old color), Safari in Gloss White, Vista, AlStar in Champagne, AlStar Original (discontinued in 2015), AlStar in Graphite, AlStar in Black, AlStar in Copper Orange 2015 Special Edition. All in a Modern LAMY Display Tray from Germany.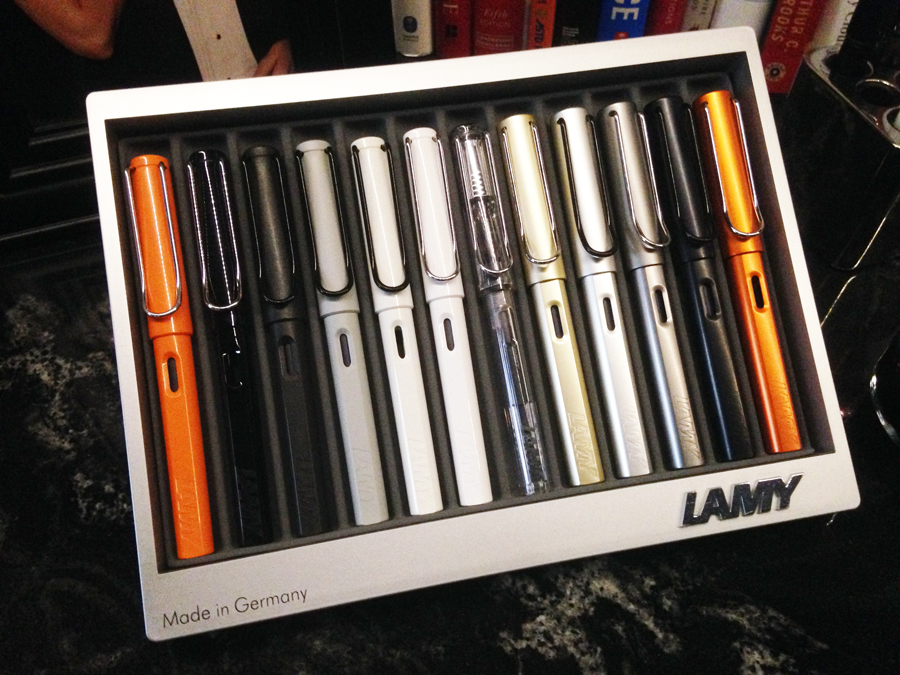 Designed by Wolfgang Fabian and Bernt Spiegel of the Entwicklungsgruppe Mannheim (Mannheim Development Group,) the robust fountain pen made of olive green ABS plastic (a much wider selection is available now) in an avant-garde style was introduced in 1980. It was originally designed to appeal to school kids age 10-15, so it should come as no surprise that it appeals to me.
I also like all the other pens made (previously and currently) by 

 (thought not quite as much as the above…)
[L to R]: Ratio in Black (1960), 99 in Gray (1960), 26P in Brushed Stainless Steel (early 1960s), 25P Orange Cap and Brushed Steel Barrel, 25P Black Cap and Brushed Steel Barrel, NEXX Orange, NEXX Graphite, NEXX Limited Edition Orange Cap, 2000 in Brushed Stainless Steel, 2000 in Black, Studio in Brushed Stainless Steel, Studio in Black. All in a Vintage LAMY Display Tray from Germany.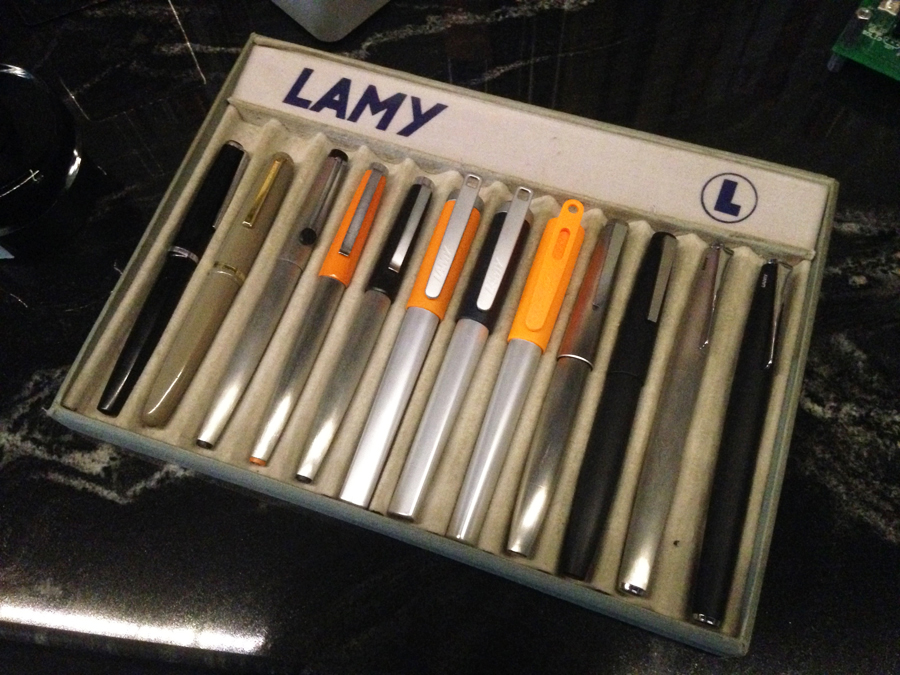 The LAMY web site has this to say:
On Brand Quality:
"Highest quality in technology, processing and material is self-evident in Lamy products. Lamy writing instruments make a clear statement: 'best value for money'.
On Design:
"Our products are self-contained and succinct. By tradition they embody the Bauhaus principle of functional design: 'form follows function'. This approach makes Lamy products unmistakable style icons and the name Lamy a quintessential brand."
On "Made in Germany":
"Lamy writing instruments embody the best German design tradition and engineering art. They stand out by virtue of innovation, reliability, restraint and status which does not relate to luxury but to intelligence."
The Bauhaus Design School emerged in a broken Germany and dramatically changed world at the conclusion of World War I, an event called "a catastrophe of world history" by Bauhaus founder Walter Gropius. In an age of mechanical reproduction, Bauhaus teachers and students sought to unite old-world craftsmanship with new technical (and technological) advances. They took inspiration from the Arts and Crafts movement's emphasis on function in use, minimalism in design, and especially craftsmanship in production. Bauhaus revolutionized design in favoring modernism, production, practicality, form, and function. In 1932 the Nazi Party raided and shut down the school.
Bauhaus design is popularly reduced to "form follows function" or "function in design." Yet these phrases do not do nearly enough to explain the impact and design philosophy of the Bauhaus. In fact, the school went through many evolutions in its brief history so it is utterly reductionistic–sloppy, lazy, wrongminded–to think of Bauhaus as a single approach, philosophy, or design ethic.
Given the chronology of the establishment of Josef Lamy's firm in Heidelberg in 1930 and the dissolution of the Bauhaus in early 1932, it is unlikely that the two intersected. In light of this, "Lamy Design" is more likely directly linked to the Hochschule für Gestaltung (HfG, Ulm School of Design, or simply "Ulm"), which followed in the tradition of the Bauhaus.
Enough history, back to the Safari…
The Safari is a cartridge/converter fill pen, its body is ABS plastic, with a molded triangular grip section that aids in correctly gripping the pen and orienting the nib for proper writing.
The Safari's design is also visible in the AL-Star line, which features an aluminum body and cap and a clear plastic grip section, in the Vista which has an entirely transparent plastic body and cap (a demonstrator pen), and in the taper-tailed Joy line for calligraphers which are often used with 1.1, 1.5, and 1.9 mm calligraphic italic nibs.
The Safari was launched as a low-cost pen mainly targeted at students. Nevertheless, from the start they offered a wide range of nib choices. Instead of trying to figure out the proper mix to produce and ship, most pens where assembled with fine or medium nibs. The nib was designed with a friction-fit to the feed so it could be exchanged without special tools or disassembling the pen. Dealers were supplied with small boxes containing the full range of nibs so the customer could try several and leave with his or her favorite. Standard nibs are Extra Fine (EF), Fine (F), Medium (M), and Broad (B) in steel or black finish (in current production the nib matches the clip.)
Since 1980 the Safari has undergone at least 3 revisions to materials and manufacturing methods, but the basic design is unchanged. 

 also makes the same design in aluminum (the Al Star) and in a clear demonstrator (now called the Vista.) There appears to be 4 generations of the basic pen: (the following info and pics are from a post by "woody" on fountainpennetwork.com)
First generation – launched in 1980 these were available in textured finish with 3 color options – Terracotta orange, Savannah green and Charcoal black. The white pen might have been made this early too.The easiest way to identify the pen is by the lack of imprint in the bottom of the barrel. Another minor detail that is different from future generations is the cap nut is hexagonal. You can see the flats on it if you shine a light into the cap. The pen was designed for cartridges or the old-style metal squeeze bar converter so there are only two wide slots at the threaded end of the section. The old-style converters were included with the pen in some markets and sold separately in others.
Second generation – these appeared sometime in the mid 80's. The "W. Germany" imprint was added to the bottom of the barrel. The inner cap was redesigned (the early material deteriorated quite easily) and the cap nut was changed to a round shape. Other colors were added, including white, red, yellow and blue. Most of these colors were only offered with a smooth texture. The charcoal was still textured and the white was made in both textured and smooth. There are rumors of a smooth charcoal. The Terracotta and Savannah were discontinued. (the original Savannah in it's original packaging can bring $1,000 in today's market, not bad for a plastic pen designed for kids)
Third generation – these came around 1990 or 1991. There were two changes on this pen: the barrel imprint was changed to "Germany," thanks to reunification, and extra slots were added to the section to accept the snaps on the plastic piston converter. Colors were basically the same as the previous generation but the textured white disappeared and the first demonstrator was added. The demonstrator might be considered the first "Limited Edition" Safari. Around the mid-90's they were sold in some markets but didn't ever appear as a regular catalog item.
Fourth generation – this change came in the mid to late 90's and was a big one. The clip, nib and feed remained the same but all other parts were redesigned. The Lamy logo and nib size were added to the nib via laser-etching. The barrel was changed from one part to two. The cap and cap ring were combined into one part. The cap asembly was redesigned to snap together, eliminating the machined top screw and cap nut. This redesign was likely done as a cost-saving measure. The price of these pens has changed very little in nearly 30 years and this redesign allowed Lamy to lower the manufacturing cost. Total number of parts went from 14 down to 11 and they eliminated two costly machined parts. All done without really altering the appearance or quality of the pen – not bad. The original white pen disappeared, a textured grey was introduced and followed by many Limited Edition colors. The demonstrator exists in this generation too but it went away when the Vista was introduced.