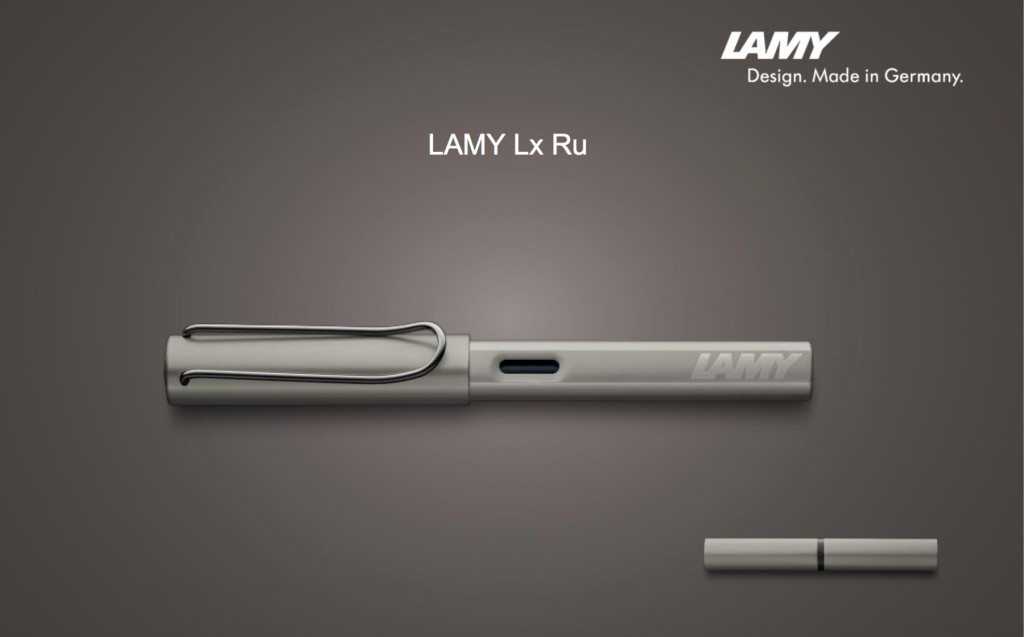 LAMY is coming out with yet another version of their now nearly 36 year old Safari fountain pen.
The LAMY Lx will hopefully be available in September (2016) and will be presented in 4 metal tones with matching clips and pen cases:

Ruthenium is a rare transition metal belonging to the platinum group of the periodic table. Like the other metals of the platinum group, ruthenium is inert to most other chemicals. The Baltic German scientist Karl Ernst Claus discovered the element in 1844 and named it after his homeland, the Russian Empire (one of Russia's Latin names is Ruthenia). Ruthenium is usually found as a minor component of platinum ores; the annual production is about 20 tons.

Palladium is a rare and lustrous silvery-white metal discovered in 1803 by William Hyde Wollaston. He named it after the asteroid Pallas, which was itself named after the epithet of the Greek goddess Athena, acquired by her when she slew Pallas. Palladium is a key component of fuel cells, which react hydrogen with oxygen to produce electricity, heat, and water. Ore deposits of palladium and other PGMs are rare. The numerous applications and limited supply sources result in considerable investment interest.

Gold in its purest form, it is a bright, slightly reddish yellow, dense, soft, malleable and ductile metal. Chemically, gold is a transition metal and one of the least reactive chemical elements, and is solid under standard conditions. Gold is a precious metal used for coinage, jewelry, and other arts throughout recorded history. In the past, a gold standard was often implemented as a monetary policy within and between nations, but gold coins ceased to be minted as a circulating currency in the 1930s, and the world gold standard was abandoned for a fiat currency system after 1976. The historical value of gold was rooted in its relative rarity, easy handling and minting, easy smelting and fabrication, resistance to corrosion and other chemical reactions (nobility), and distinctive color. A total of 183,600 tons of gold is in existence above ground, as of 2014.

Rose gold is a gold and copper alloy widely used for specialized jewelry. Rose gold, also known as pink gold and red gold, was popular in Russia at the beginning of the nineteenth century, and was also known as Russian gold although this term is now obsolete. Rose gold jewelry is becoming more popular in the 21st century and is commonly used for wedding rings, bracelets, and other jewelry.
Although the names are often used interchangeably, the difference between red, rose, and pink gold is the copper content: the higher the copper content, the stronger the red coloration. Pink gold uses the least copper, followed by rose gold, with red gold having the highest copper content. Examples of the common alloys for 18K rose gold, 18K red gold, and 18K pink gold:
18K Red gold: 75% gold, 25% copper
18K Rose gold: 75% gold, 22.25% copper, 2.75% silver
18K Pink gold: 75% gold, 20% copper, 5% silver
12K Red gold: 50% gold and 50% copper.[3]
Up to 15% zinc can be added to copper-rich alloys to change their color to reddish yellow or dark yellow.[2]
During ancient times, due to impurities in the smelting process, gold frequently turned a reddish color. This is why many Greco-Roman texts, and even many texts from the Middle Ages, describe gold as "red".
I will be getting the Ruthenium and the Palladium.